What We Love Doing For You
At Recycled Records, we love connecting you with great music on CD, tape, and vinyl. We pride ourselves on our extensive collection and knowledgeable staff. Combine this with the atmosphere and our other services and you have something special.
Our History
Recycled Records is a second-hand retail music store that has served Reno/Sparks and Northern Nevada since 1978.
Our first store opened in 1978 and was purchased in late 1980 by the current operator, Paul Doege. The Main store has been at its current location since December 2012, after being at South Virginia and Kietzke for 24 years and a short stay at Kietzke and Moana.
The University store opened in 1997, closed in 2008, and replaced a former 2nd store in Sparks(1988-1993).
We now only have the one store at 822 South Virginia Street in the Midtown section of Reno and we have never been happier.
What We Believe
We believe in Quirkiness, Quality, Quantity, and other words that start with Q. Seriously though we care.
Contact Us
Phone: (775) 826-4119
Address: 822 S. Virginia St. Reno, NV 89501
Hours: Mon-Thu 10A-6P, Fri-Sat 10A-8P,  Sun 12N-6P
Connect With Us
Connect with us on social media!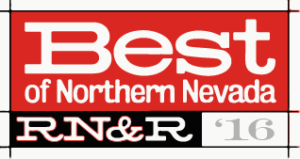 Recycled Records Virtual Tour
Directions To Recycled Records
Details On Our Location
We're extremely excited to have moved to Reno's Midtown District! We are located on the corner of Cheney & South Virginia, in the old Western Building next to Kaia Fit and below Reno Tattoo. Our new store is bigger and easier to navigate, and it's nestled right in the middle of Midtown, Reno's newest and most exciting district. We closed our Kietzke location in November of 2012.
Recycled Records
822 S Virginia St
Reno, NV 89501