Sell & Trade with Recycled Records
So, You Wanna Sell Us Your Stuff?
Let's be gentle about this. We're dealers- fast and easy, but we don't pay as much. First and foremost, you need to have an appointment to sell to us. There are too many people selling these days, and we need to control our outlay of cash. If you just walk in on us, you might be wasting a trip. So call us at 775-826-4119 to schedule one.  We do not make appointments online.
When we buy, we go thru your stuff, take what we want, and pass on what we don't. We average .50-$1 for CDs, DVDs, and tapes.  We'll pay .50- $2 for most LPs, depending on what we see and the shape it's in. DVD sets are variable as the price on them drops drastically over time.  The lowest prices are offered for discs that are in need of polishing.  On special pieces (usually stuff we'll sell quickly for $100 or over), we'll offer a 50% consignment. As a result, we're not that interested in out-of-area buys because shipping is prohibitive. As we always say, the best way to make the best money is to sell the stuff yourself. Do the homework and hit eBay, Goldmine, Craigslist, or have a garage sale. But if you want to maximize the value of your stuff with us then consider trade! See below.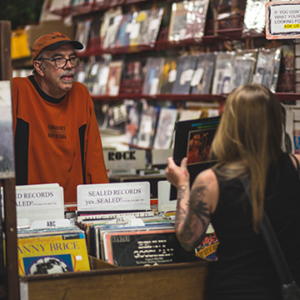 Can We Trade?
Contact us with what you have, and we'll let you know. In most cases, we offer as much as double the cash value and sometimes more. We'll have to go through your stuff to determine what we want, and, like buying, will take what we want and pass on what we don't, then we'll assign a trade value dollar amount for you to spend. Other than that, it's a cash value.  In most cases, we'll offer at least 50% more of the cash value and sometimes more. Trade works towards media only, not accessories, services, tickets, turntables, or any special orders. Be sure to CONTACT US first. 775-826-4119
Can We Deal?
Sure we can. Remember, the more you spend, the better your chances. We have everyday deals on CDs, Tapes, VHS, and DVDs. Store deals include most unmarked cassettes at 4 for $10(see Whatta Deal!). Buy any 2 CDs or DVDs and we'll knock off $2 and include the tax.  Spend at least $20 in vinyl, and we'll knock a few bucks off. VHS are $3 each or 4 for $10, tax included. Double VHS count as one (Godfather, Braveheart, Titanic…).